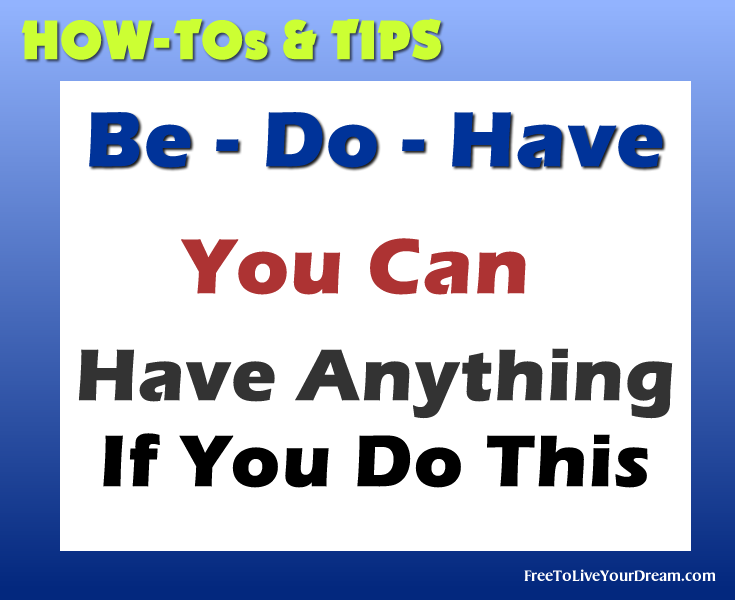 I want to share a tip that is simple, but sometimes takes a while to really grasp what it means. It took me 3 or 4 times to really get that AH HA! You may have heard the term Be – Do – Have. What does that mean?
This can be compared to the chicken and egg question. What comes first? If you want to be happy, does everything have to be perfect in your life before you can be happy? Do you need to have lots of money before you can be happy? The answer is NO! You need to BE happy now. Life is way to short.
Watch my video below for an explanation of this life altering concept.
Here is something to get you thinking. If you had a million dollars now, how would you be different as a person? Would you be more confident? Less stressed? Happier?
Now, do you have to have a million dollars to be more confident? Do you need it to be less stressed? Do you need it to be happier? NO, you really don't. You do not have to HAVE to BE.
Drum roll….You have to be more confident, less stressed and happier to do the things you need to do to get the million dollars. It is all about choices. You have to choose to BE, NOW. When you are confident and happy, this is when you will attract people and good things to you. They will flock to you.
There is nothing missing in your life to stop you. Don't wait. Be that person first – a person of success. Then watch the results come and your life change.
To your success!
Make sure you are on my newsletter mailing list, I will be sending out more stuff like this, fun stuff about cabin life in Montana, golden nuggets and other great stuff to help you make more money in your home business! Sign up HERE
If this helped you, please comment and share.
Helping You Live Your Dreams!
Marlo Fullerton
I use a proven internet marketing system that is generating leads daily into my business. If you want a simple solution to getting leads to talk to about your business or a simple way to build your list without having to chase around your friends and family, you owe it to yourself to look at this system today. Click Here
If you are looking for a work at home business opportunity that gives you the ability to build a Live Anywhere Work Anywhere Lifestyle Click Here
Success Tip: You Gotta BE, DO Then You Will Have
Share and Enjoy