We are having an extreme cold snap here in Montana and only reached a high of -5 today. On cold days like this, something hot to warm you up is needed. We decided to make one of our favorites…Taco Soup. I thought I would share our Taco Soup Recipe so you can enjoy this quick and delicious meal.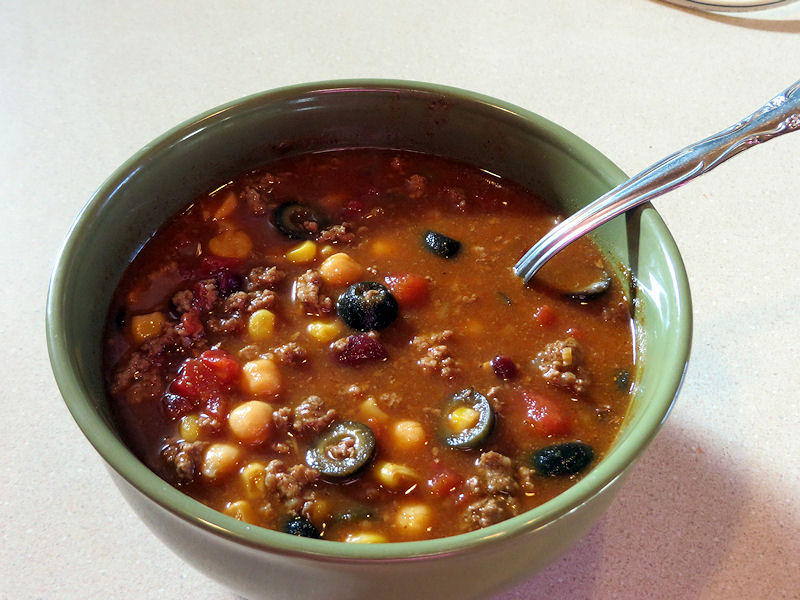 Taco Soup Recipe Ingredients
1+ lb hamburger
2 cans kidney beans
2 cans garbanzo beans
2 cans whole kernel corn (or frozen)
1 large can olives or 2 small cans sliced olives
1 14.5oz can petite diced tomatoes with green chilies
1 14.5oz can petite diced tomatoes
2 taco seasoning packets
2 cups water (to your liking)
1+ Tortilla Chips
Shredded Cheese (your choice)
Taco Soup Directions
In a skillet brown hamburger and drain fat when done. In large soup pot add all canned ingredients, taco packets and water to your liking. Stir until taco seasoning is thoroughly mixed. Turn on med-high heat and heat until boiling then simmer for 30 minutes or to your liking. That's it!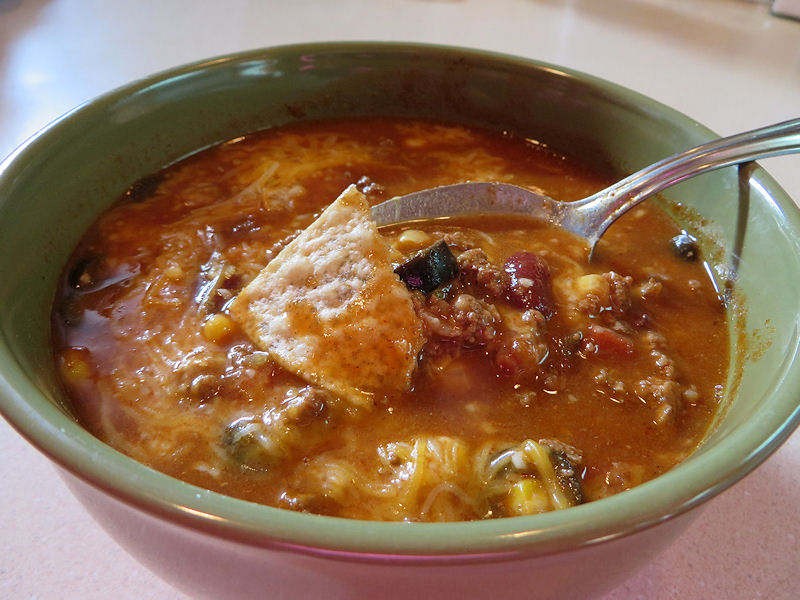 How do you eat Taco Soup?
Serve the taco soup in a bowl and top it with your favorite shredded cheese. We like a mix of colby-jack and chedder. The next part is up to your preference. You can take a handful of tortilla chips and crunch them up in your soup and eat. With this method the chips get soggy the longer you take to eat your soup…good, but soggy. I prefer my chips crunchy in every bite, so I have my chips on the side and break them up one at a time as I eat my soup. I break a chip up in to 3 or 4 pieces and drop it in the soup. Then I scoop out a bite that include soup and a piece of chip. This way every bite has a crunchy piece of chip in it…Yum!

If you enjoyed this, please share!
Make sure you are on my newsletter mailing list, I will be sending out more stuff like this, fun stuff, golden nuggets and other great stuff to help you make more money in your home business! Sign up HERE
If this helped you, please comment and share.
Helping You Live Your Dreams!
Marlo Fullerton
I use a proven internet marketing system that is generating leads daily into my business. If you want a simple solution to getting leads to talk to about your business or a simple way to build your list without having to chase around your friends and family, you owe it to yourself to look at this system today. Click Here
If you are looking for a work at home business opportunity that gives you the ability to build a Live Anywhere Work Anywhere Lifestyle Click Here