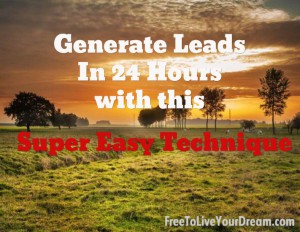 If you are like most network marketers, you are looking for ways to generate leads.
I learned this awesome and incredibly easy technique that can have you generating leads in 24 hours. What is this technique you ask? It is called ILT…Invest! Learn! Teach!
Watch this short video to learn what ILT is and how to implement it right away to start generating leads.
The best part about ILT is it utilizes the things you are already doing and with just a little extra effort, turns it into cash! Awesome!
To your success!
Make sure you are on my newsletter mailing list, I will be sending out more stuff like this, fun stuff, golden nuggets and other great stuff to help you make more money in your home business! Sign up HERE
If this helped you, please comment and share.
Helping You Live Your Dreams!
Marlo Fullerton
I use a proven internet marketing system that is generating leads daily into my business. If you want a simple solution to getting leads to talk to about your business or a simple way to build your list without having to chase around your friends and family, you owe it to yourself to look at this system today. Click Here
If you are looking for a work at home business opportunity that gives you the ability to build a Live Anywhere Work Anywhere Lifestyle Click Here
Generate Leads In 24 Hours With This Technique
Share and Enjoy