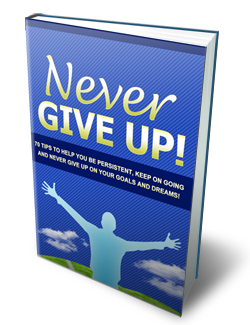 I'm sure you have heard the quote, "You only fail if you quit" or something similar. This is very true when you are an entrepreneur and are starting a home business. You have to set your goals and never give up. You will have many ups and downs and you have to keep going to achieve your dreams.
I found this great eBook, Never Give Up, that will help you keep on track and stick with it and the best part…I am offering it FREE for you to download. Yes, I said FREE. All you have to do is enter you name and email to get on my mailing list for great marketing tips and information to help you make more money with your business. No canned emails…just live emails with great marketing info and fun stuff about living in a cabin in the woods of Montana.
Download your free guide and discover 70 Ways to Stay Persistent and to Never Give Up On Your Dreams. Whatever your ambition…to further your career, succeed in business, lose weight, you name it…learn how to stay motivated and focused on your goals despite any setback, failure, distraction, or mistake.
If this helped you, please comment and share.
Helping You Live Your Dreams!
Marlo Fullerton
I use a proven internet marketing system that is generating leads daily into my business. If you want a simple solution to getting leads to talk to about your business or a simple way to build your list without having to chase around your friends and family, you owe it to yourself to look at this system today. Click Here
If you are looking for a work at home business opportunity that gives you the ability to build a Live Anywhere Work Anywhere Lifestyle Click Here
Never Give Up – FREE eBook Download
Share and Enjoy