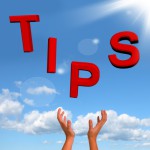 A huge challenge to network marketers and home business entrepreneurs is wasting too much time preparing. I have been guilty of this. I would prepare to prepare to prepare by watching training video after training video and getting everything ready and pretty soon weeks have gone by and I still have not taken any REAL action.
I was listening to the MLSP wakeup call the other day by Frank Marino and wanted to share a couple of key tips on this subject. He says, " Less preparing and more winging it." I agree. You need to spend at least 80% of your time on income producing activities. In this video I discuss some quick tips I've learned on taking action.
Please Note: I shot this in my car, so the audio isn't the best, but the message is still great!
Remember it doesn't have to be perfect, but you do need to take action. You will get better the more you DO IT. Now go take some action!
If you enjoyed this, please comment and share.
Helping You Live Your Dreams!
Marlo Fullerton
I use a proven internet marketing system that is generating leads daily into my business. If you want a simple solution to getting leads to talk to about your business or a simple way to build your list without having to chase around your friends and family, you owe it to yourself to look at this system today. Click HERE
Stop Preparing and Take Action to be Successful
Share and Enjoy